Andy Carroll launched into a foul-mouthed tirade against much-maligned Liverpool manager Kenny Dalglish last night, as Liverpool suffered another loss in what has been the club's worst Premiership campaign in over 50 years.
The £35million signing Carroll was up against his former club Newcastle at St. James' Park and throughout the match he was bombarded with boos and jeers from those in attendance. However, not all of the boos were eminating from the home fans – Carroll also found himself the subject of criticism from the Merseyside club's own supporters, who watched the striker deliver another underwhelming performance that culminated with a 79th minute substitution and a very public lambasting of his boss.
Carroll refused to shake Dalgish's hand as he exited the pitch, instead shouting "it's a f***ing joke, f*** off" before making his way back to the dressing room. Carroll had already expressed frustration during the match when Newcastle manager Alan Perdew had accused him of diving in order to win a penalty, shouting "I did not dive, you f***ing c***" at his former boss.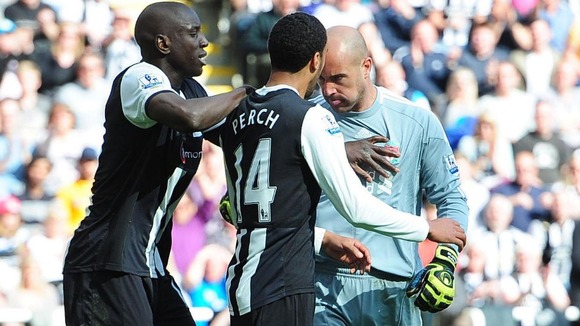 Along with the 2-0 loss Liverpool suffered another blow after goalkeeper Pepe Reina was given a red card for head-butting Newcastle defender James Perch. Tellingly, Dalglish was dismissive of Carroll's harsh words in his post-match interview, instead empathising with the striker and claiming that it was Reina's removal from the match that caused his outburst. "We don't have a problem with people showing their disappointment or frustration," said the manager. "But we need to channel it better than we have done.
"The frustration and disappointment were a result of the actions of Pepe and he got a deserved red card. Maybe they were feeling sorry for themselves. When Andy went off and up the tunnel, he was disappointed at the way the game had gone, not necessarily for himself but for the team."
Dalglish also spoke about Carroll's alleged dive, which saw Carroll receive a yellow card, saying: "we have no qualms either about when he went down with the goalkeeper. I thought it wasn't a penalty kick. I also thought Andy was losing his balance anyway.
"Even if he had got past the goalie, I think he would still have fallen over. We don't have a problem with that. We might have a problem with the yellow card though because I don't think it was intentional."
On the other hand Papiss Cisse, Carroll's £10million replacement at Newcastle, continued what has been an impressive run at his new club by scoring both of their goals, now having scored seven goals in as many league games. Carroll, however, has scored just five for Liverpool in his 36 appearances.
Rumours have been circulating surrounding Liverpool's desire to put Carroll up for transfer, but the club have fervently denied them. However, it has been acknowledged that Newcastle would wish to re-sign him at a reduced rate if he were to become available again, with Pardew saying: "Andy Carroll is a player that needs to have a game plan that's going to work for him. Liverpool struggle to find that with the players they have.
"I felt for Andy. He's a terrific lad having a tough year, but he'll come back. When we had him here we were probably a little bit more direct than we are now. He was magnificent for us and he will be again."