BBQ's, Beach Trips, adventure and planeteers are being featured on the best sites to find funny videos today. So grab yourself a mojito, a corn dog and some red hot Green vengeance!
Atom Films – Magic Hugs: BBQ (link)
What can be said, some people like BBQ's, and some people I guess have more important things to do than chill with some friends, brewskies and eat chardogs.
If a BBQ isn't your thing, maybe chilling out at the beach, enjoying the sand, the surf, the… giant human sized inflatable balls… maybe that's for you.
Dailymotion – Blonde vs Sphere (link)
Not for this chick however.
Youtube – Paranormal Dicks: Alien – Part 4 & Bloopers (link)
The gang over at recklesstortuga are back with Part 4 of Paranormal Dicks. A video series in which a group of alien investigators are inexplicably jerks. In this episode, Detectives Faith & Christian are hired to help with an alien abduction only to have 'The Man' come between them and their first alien capture! Or, possibly they almost kill a dude and the cops show up… who knows, but it's being featured on youtube!
Now that you're extraterrestrial sweet tooth has been fed, lets get some real brain candy – cause it's time for… Web Comics! Web Comics! Web Comics! (in your head was that like all Wayne's World? Cause it was for me, maybe you should read it again), or just sit back relax, grab a coffee, unzip your pants, wait… no, you bastard! Read these!
WebComics
Today on Natalie XKCD Family Decals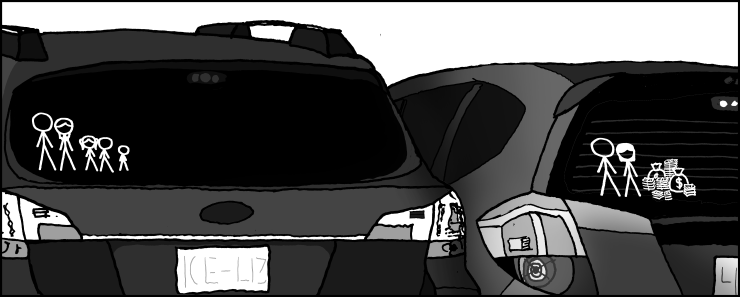 Today on Natalie Dee: where else could you shop at american apparel and do coke
Today on Toothpaste For Dinner: why you butt so weird
Funny Or Die – Don Cheadle is Captain Planet (link)
And now, the best thing happening on the web today. The man, the legend, Don F'ing Freaking Cheadle as Captain Freaking Planet! If ever there was a match made uin green planet heaven it was this.
Well folks, so we come to another thrilling conclusion of the Funny Pages! Don Cheadle kudos to you friend. Seriously I would watch the crap out of that as an entire series, that's the first thing I've seen Funny or Die put together in months that made me laugh, let alone do more then raise one eyebrow and wonder.